Welcome to Takumi
by Daisuke Mori
Takumi by Daisuke Mori, a one Michelin-starred restaurant tucked away on a side street in Wan Chai. At the eponymous 12-seat restaurant, Chef Daisuke Mori expresses his personal culinary journey and philosophy through an artistic tasting menu that gracefully blends French and Japanese flavors and ingredients while adhering carefully to the seasons.
With a unique international culinary background that reflects his penchant for blending cuisines, Daisuke Mori currently heads the kitchen of 1 Michelin-starred and highly acclaimed French-Japanese restaurant Takumi by Daisuke Mori in Hong Kong.
After completing an intensive vocational training course at the famous Tsuji Culinary Institute in Osaka, Japan in 2001, Mori set his sights on some of the finest French dining establishments in the world, kicking off his career at none other than 3 Michelin-starred Chateau Restaurant Joel Robuchon in Tokyo.
Mori's love for fusing French culinary traditions with fresh Japanese seasonal ingredients grew,and led to his impressive stints in world-renowned 2 Michelin-starred Restaurant Taillevent in Paris and 1 Michelin-starred Restaurant Signature at the Mandarin Oriental Tokyo.
In 2010, Mori took part in a successful promotion of Restaurant Taillevent in Tokyo Kaikan, cooking within a hand-selected representative team under the celebrated Head Chef Alain Soliveres. From 2010 to 2014, Mori spent time in Poznan, Poland to lead fine dining restaurants such as Restaurant Jadalnia and 5-star boutique hotel Blow Up Hall 50/50, and perfected his craft of French-Polish cuisine – which lends subtle hints to his unique signature imprint at Takumi by Daisuke Mori today.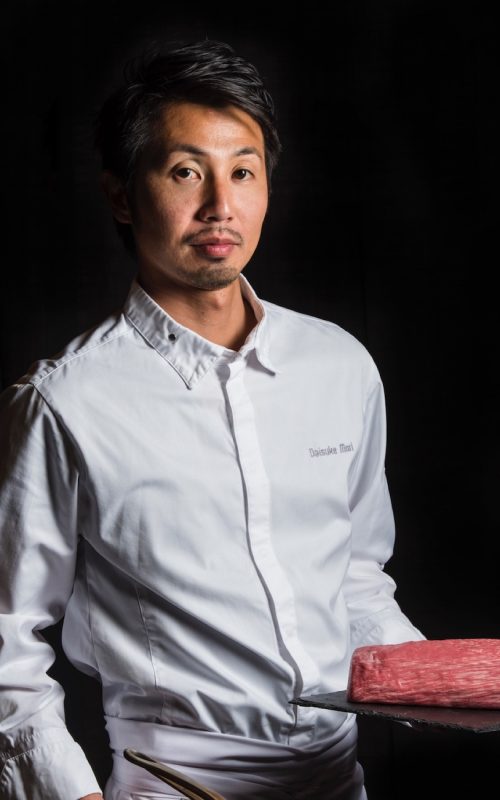 Seasonal Tasting Menu
In the seasonal tasting menu of Chef Mori, Japanese and French cuisines meet to form unique culinary creations. The menu is a constant adaptation to what's in season and research of flavours combination, delivered with beautiful flair and intuition.
Sommelier's Wine Pairing
The option to include wine pairing
* Prices are in Hong Kong dollars and subject to 10% service charge
All menu items are subject to change according to seasonality and availability. Feel free to contact us for more information.
*We are currently unable to accommodate vegan/dairy-free/lactose intolerant and certain dietary restrictions at this time. Please check with us before making an RSVP.
ADDRESS
Shop 1, G/F, The Oakhill, 16 Wood Road, Wanchai, Hong Kong
OPENING HOURS
Lunch: upon request (only available on the dinner tasting menu)
Dinner: 18:30 – 22:30 (Sunday closed)
We'd love to hear about your experience in our restaurant and so we invite you to contact us.